Here are my top, favourite, additional healing Sports and Body Massage treatments for your skin, health and overall wellbeing.
Health-focused to help you lead a healthier lifestyle, all in one gummie.
NutriBurst Vitamin Gummies are bursting with plant-based, health goal multivitamin flavours to maintain the overall condition of your healthy muscles and bones. Starting from the inside, out.
Nurtiburst supports your body 
with sports certification to meet high quality standards of elite athletes.

 
Also, NurtiBurst are naturally packed with vitamins and minerals to aid 
your body, and mind for every purpose. These vitamins boost your immune system and cell function. While, regulating your nervous system, releasing energy, fighting fatigue and balancing hormone production. 
No pill. just hassle-free, full of pure gummy goodness! 
Suitable for vegans. All there products are gluten and sugar-free. You can even recycle the packaging.
The tastiest chewable supplement to get all the vitamins you need.
I've loved having these daily doses of nutrition to kick-start my morning and keep me going throughout my day. The reasons above speak for themselves. NutriBurst are already in my next shopping basket!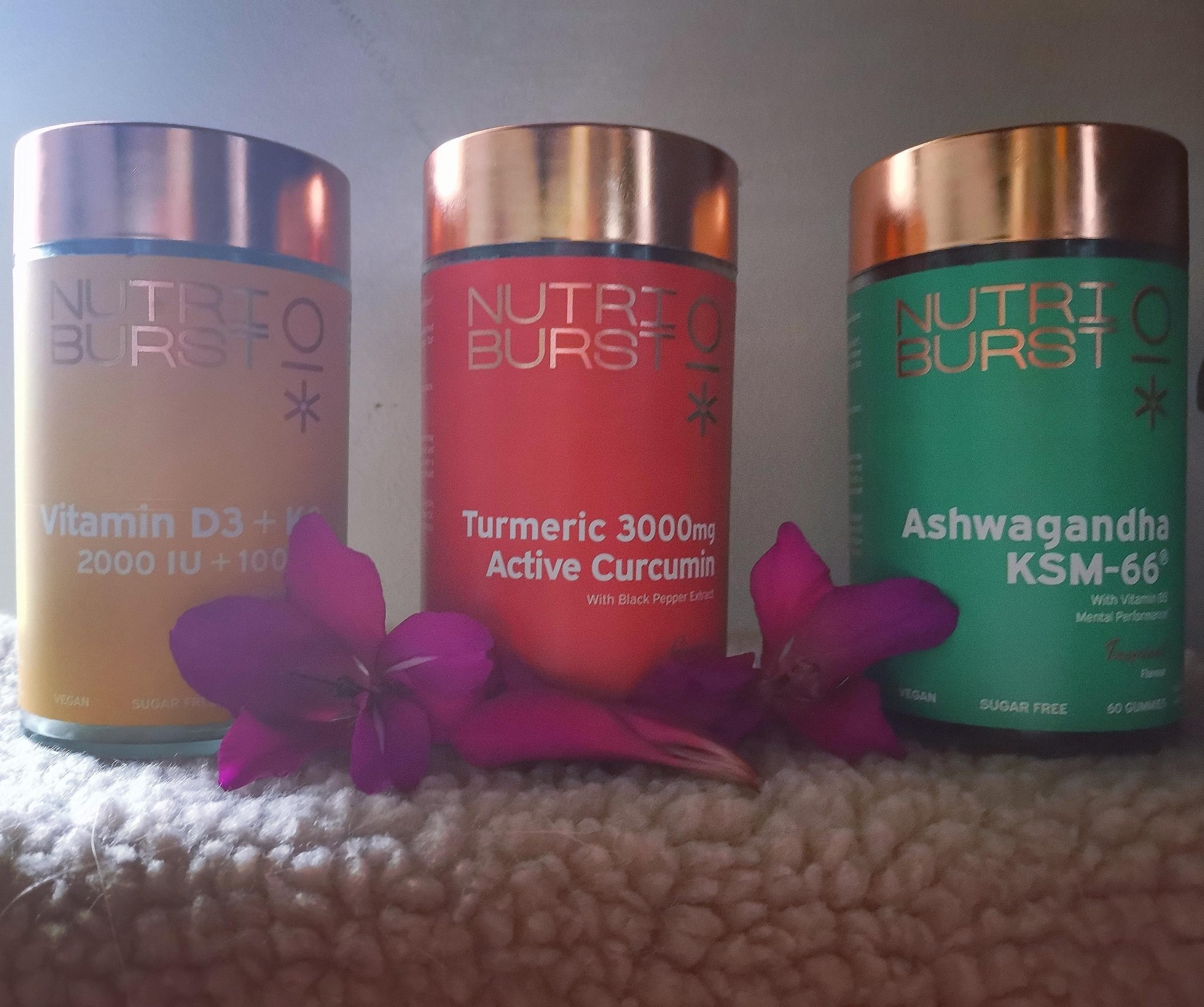 Plantopia - Accompanied by a really-make-a-difference review, and of course, breathing techniques, to allow you to experience each product to its full potential and provide a sense of whole wellness to reboot your senses and central nervous system. These bottlles transport you on a journey similiar to my massages / massaging - The holistic, healthy essential oils come in different oils, designed to rebalance your mind and re-energise your skin, from head to toe, while cocconing you into a calming experience, so you feel better after a relaxing bodywash, or after bodywork, working the product into your skin.
This brand includes your face mist, soaking salts,bath and shower oil. Plant-powered relaxation with relaxing-enabling adaptogenic holistic health. Their mission is to positively champion and impact people and our planets health by improving our world wellness. Naurally, this brand is vegan and cruelty free.  Check out their relaxation ritual products here.

Dermaworks - Our UK Ins
tant face lift serum, in a designed injection tube that pumps out magic! Perfect for sensitive skin. This product can be used with, or without makeup and lasts 8 hours, once applied. At 32 years, young. Even though I lead a healthy, holisitc lifestyle, I had been thinking more productively about naturally saving, enriching, and enchancing my face through certain beauty works.
This comes with our generation under increase amounts of pressure to look, and even feel a certain way....Then the universe introduced me to this product.  Since testing this serum, I have noticed tightening and lifting of my facial skin, and muscles, already, and it's only been 4 weeks! This product is a much safer, more affordable non-surgical alternative to botox, laser treatment, or cosmetic surgery. This brand is vegan, cruelty free, aswell. Not only does it keep my skin glowing, but deserves a glowing review. Reveal the very best version of you here.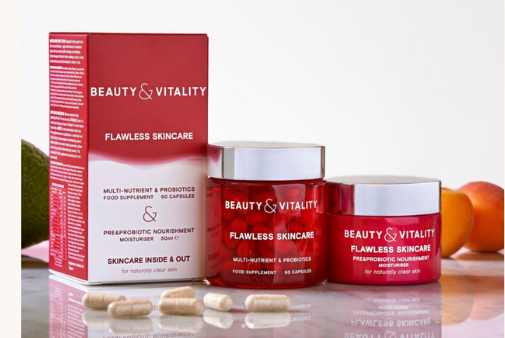 Beauty & Vitality -  Get glowing skin from the inside out this Christmas! This product was gifted to me, making it your go-to gift for your loved one, who is looking for a product containing never-seen-before, support and supplementing flawless, healthy complexion combining of prebiotics, probiotics and skin loving nutrients from the pro's on the skin-dustry. 
As a woman, who in her early thirties has suffered previous with (pre severe in my late twenties) facial ezcema facial/sensitive skin overall. This brand delivered at the most perfect time. Just before these baltic, winter conditions, when everybodies skin needs some extra tlc to help it to adapt with the rise of living costs, heating, etc. It all takes it's toll, and effects your health, starting with your biggest organ; your skin. However, since using these products, and supplements, my skin has settled, becoming in my control. and I am loving the skin, I am in, further. There's been a noticeable difference to my complete skin texture - It's smoother, glossier, brighter and refreshed. 
Together these products deliver/have delivered the right nutrients to your/my skin to help counter the effects of the menopause, even slowing the signs of ageing so you can/I do radiate inside, and out. Beauty & Vitality use expert products formulated to aid maintain youthful skin, keep moistured, boosting your skin's microbiome, improving your skin immunity and gut health which helps reduce toxicity in the blood stream, updating the absorption of important nutrients thereby reducing inflammation and keeping breakouts to a minium. Highly recommend.
Beauty & Vitality are now in a store near you - Superdrug (Marketplace!) at affordable prices with FREE online shipping on all orders over £50. Purchase your Beauty & Vitality product today, making it the best Christmas stocking present, here.
Dr.Jart Ceramidin Ectoin Infused-Cream
Looking for a face cream that gives you that fast-absorbing, ultra rich glow that feels like velvet, while giving your skin barrier strength,moisture and protection? Even better that it's been Dermalogically tested and suitable for sensitive skin. 
Grab Ectoin from the shelf, today!
This powerful infused-cream  simply wants to ward off the negative effects of the winter weather. Helping to protect plants and microorganisms that live in the hostile environments of some of nature's most extreme habitats, like the Arctic and the deep sea. These protective properties make it a pretty effective skincare ingredient, too.
Dr.Jart's Ceramidin boosts your skin moisture levels by 139%.
Personally, this product has left my skin feeling much happier and hydrated using it's hero, effective ingredients, designed to protect your biggest organ against the harsh enviroments.
My face feels super soft from the moment I apply it. It even comes with it's own spatula.