Sports & Body Massage

For Worthing

Sports and Body Massage Therapy

Enliven through breath, movement, stretch and flow

Sports Massage

Deep Tissue Techniques

Tension Relief. Muscular Recovery.

Body Massage

Unwind, De-stress and Well-being

Reflexology Feet Massage

Put your feet up! Deeply relaxing. Naturally healing.

Hot Stones Massage

Warm up your muscles with this muscle melting massage
Sports and Body Massage is now re-opening 12th April, Monday!
Adhering to UK Government National Lockdown 3.0 Guidelines
Please note due to the latest UK Government Guidelines,
unfortunately, the toilet, will not be in use.
Worthing Sports and Body Massage Therapist Practitioner, Siggy
Worthing's private home based massage cabin studio for women and men
Federation of Holistic Massage Therapy, Level 4 Qualified in Sports Massage with Deep Tissue Techniques
And Swedish Body Massage
GTi Qualified in Hot Stones Massage, Reflexology Feet Massage
Coming SOON!
Indian Head Massage - This particular treatment focuses on your upper shoulders, upper arms,neck, face and scalp.
By Appointment Only
Book Online
Schedule your session ahead of time 1 week in advance!
Once you have recieved your confirmation, your appointment will be secure Your updated Online Booking Consultation Form will be sent via the system for you to fill out prior to your massage. **By booking an appointment you are agreeing to my policies** [Sports & Body Massage appointments show up to one month availability] Have a massage day or time apointment request? Pop me a message and I will squeeze you in where I can! Please note due to the laest UK Government Guidelines, unfortunately, the toilet, will not be in use. Online Boookings please click here
Please arrive to your massage on time; New Clients should arrive 10-15 minutes early for their first initial socially distanced Consultation Form. However, when you book online, an updated Online Booking form will be sent to you for you to fill out prior to your massage. This will give us time to cover everything and for you to have the time for a relaxed and unhurried experience.

[Please note - No toilet facilities on the premises'...at the moment!]
However, the nearest toilet is available at Lucifer's Cafe Bar / Portland Road car park; 3 minute walk - 0.2 miles away.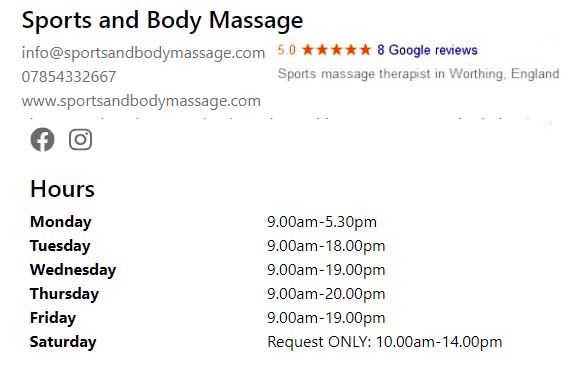 Massage techniques offered
Click the arrows for more
Massage techniques offered
NEW Indian Head Massage
45 minutes

This particular treatment focuses on your upper shoulders, upper arms, neck, face and scalp.

Siggy from Sports & Body Massage has her own unique take on the traditional Indian Head Massage. This treatment will begin with traditional massage techniques to prepare your muscles.

Using mild pressure. Or, can be used with a handful of deep tissue techniques. Including, a facial (if requested pre massage booking) and massage combined.

Soft, tranquil Sports & Body Massage music. Fluffy towels can be warmed up for you.

Your chosen nourishing oil of either Jojoba, Grapefruit or Lavender (Or, you are more than welcome to bring your own oil!) is applied to your face, neck, scalp and shoulders during your massage. Offering pure relaxation tailored, to you.

This treatment is usually performed seated on a chair. But, can be adapted to lying down on the couch. Indian Head Massage is performed with oils! So, there is a need to remove some upper body clothing, [Ladies must keep their bra's on, but pull the straps down!] and wear minimal make-up, if you are having a facial.
A Sports and Body Massage ensures that you are surrounded by tranquillity. Siggy incorporates hands-on techniques, including relaxation, acupressure, trigger point therapy, sports, deep tissue and soft tissue techniques, or myofascial release work. Your massage can be forceful at times, firm and definite, but mixed with gentle strokes, plenty of stretching and muscle work, altogether to release fascia and relax your nervous system. Holistically blending therapeutic techniques on beliefs and understanding of the power within Eastern and Western natural healing approaches. A clinically tried and tested fusion of clinical massage techniques crafted with the intention to create space within your body. A Sports and Body Massage is more than a massage, it's a journey. Allow yourself to drift away, leaving you feeling like the best version of yourself. Namaste. Is Hot Stone Therapy right for me?
Hot stone therapy is not recommended for everyone, especially anyone with high blood pressure, diabetes, heart disease, varicose veins, migraines, rheumatoid arthritis, decreased pain sensitivity, recent wounds, areas of weakened or inflamed skin, tumours, metal implants, recent chemotherapy, radiation or surgery or are on medication that thins the blood. Including, if you think you may be pregnant, please book a pregnancy massage.
When not to have your Indian Head Massage
Indian Head Massage should be avoided if you have had recent surgery, or a head or neck injury; A history of thrombosis or embolism; spondylitis, spondylosis, or osteoporosis. If you have very high or low blood pressure; Diabetes. Epilepsy, any kind of heart condition, or cancer. Any skin condition; such as eczema, or psoriasis. Not suitable to have with recent Botox. Or, with hair extensions in. Even if you are pregnant.
If you have a serious medical condition of any kind you need to provide Siggy with a letter / document of consent from your doctor or practitioner confirming that the treatment is suitable for you to have. It is advised to talk to your doctor before arranging your Sports & Body Massage - Indian Head, Sports Massage, Swedish Massage or Reflexology Feet Massage treatment.
**Siggy doesn't diagnose and does not claim to be a medical doctor, psychologist or licensed nutritionist and she recommends that any addition of herbs and supplements and/or change in your diet (and in some cases, receiving bodywork) be approved by your personal physician.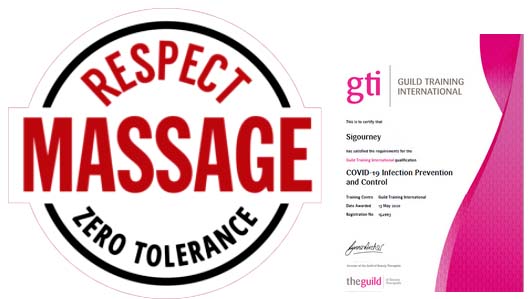 Why your Sports & Body Massage?
Sports Massage benefits can also help you to:
And / with Deep Tissue Techniques
Increased range of motion, leading to enhanced fitness performance.
Lower the risk of muscular injuries, increasing circulation and relaxation
Speed up muscle recovery and prevent/break down formation of scar tissue
Hot Stones helps you to
The stones warm and relax your muscles
Ease muscle tension
Improve circulation
Promote well-being.
Reflexology can also help you to
Healing your body from the inside, out!
Create a deeper sense of wellbeing and relaxation
Gently release your muscluar tension, relieve aches and pains
I won't perform Reflexology massage in any trimester of pregnancy
Swedish Massage can also help you to
Therapeutic effects that simply relax and calm your muscles.
For well-being, relaxation, quietening the mind.
Allows your posture to go into its natural alignment
Improving your circulation
Indian Head Massage can also help you to
Improve your circulation
Clear your sinuses
Working on all muscular tension
Improves hair texture