Sports and Body Massage is the ultimate indulgening therapeutic massage treatment in a beautiful tranquil enviroment located in my own private space up the spiral staircase in the Mezzainine in the heart of Worthing's town center.
Sports & Body Massage

Come up to the Mezzainine!

Worthing's FHT Qualified

Massage Therapist & Reflexologist, Siggy

Sports Massage - Deep Tissue

Muscle recovery. Tension relief. Aid flexibility. Prevent injury. Enhance performance.

Swedish Body Massage - Relaxation

Unwind. De-stress. Increase circulation. Improve your well-being.

Reflexology Feet Massage

Perfect to unwind, calm a busy mind and tap into the body's innate healing wisdom.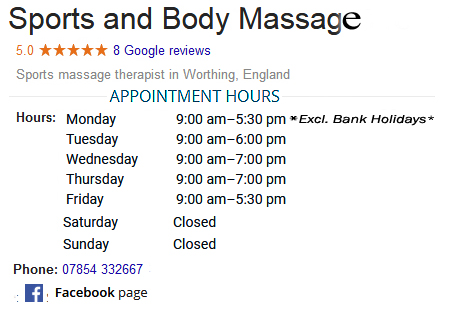 As a certified professional,Siggy has designed Sports and Body Massage's environment to be within a cosy, soothing home-based studio, filled with ambient music, soft lighting and lightly scented aromas.
Sports and Body Massage approach will deeply treat your muscles while allowing you to mindfully relax.
Interested in a Sports and Body Massage Service?
Get in touch via the Contact Form below!
Terms & Conditions: Please honor Siggy's 24 hour Cancellation Policy.
SPORTS & BODY MASSAGE T's&C's Apply!
Looking forward to hearing from you!